Automatic abutting skiving model Pama 110 with loader for executing in a single cycle the abutment with various inclinations and hollowing out of the upper part of the heel.
Automatic trimming machine for heels P. 54T, patent model for cutting the outlines of leader, regenerated, faesite, rubber heels (includede the front side).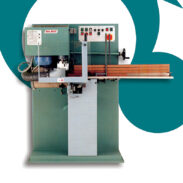 Automatic sectioning machine High-productivity, automatic Hydraulic sectioning machine for rough-shaping heels out of strips.