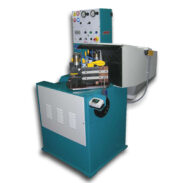 P10M is a milling machine for the milling of soles in microporous rubber.
P.170: is a five-axis machining center designed for milling the outer edge of the sole, with the possibility of performing various types of edge inclination thanks to the use of a sophisticated five-axis CNC interpolated.
Semiautomatic pretrimming P. 50 N for the trimming of the eather and syinthetic soles, with or without attached heel, or only heels.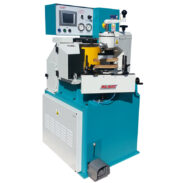 Sole edge semiautomatic premilling machine to mill plain soles, heeled soles and even welted soles
Half-automatic pre-trimming machine for the trimming of soles and soles with welt or heel applied.
It is a semiautomatic electronic soles edge trimming machine (even with heel and welt on), it allows to make four different profiles in the same sole, as each shaft can assemble up to two tools.