Automatic trimming machine for heels P. 54T, patent model for cutting the outlines of leader, regenerated, faesite, rubber heels (includede the front side).
Automatic elettronic premilling machinefor soles with two spindles for milling soles perimetre, with or without heel with single or multiple profiles. Arranged for the use of loader P. 46. (Prearrangement and loader-unloader are optional)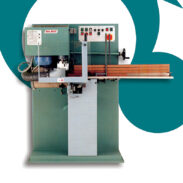 Automatic sectioning machine High-productivity, automatic Hydraulic sectioning machine for rough-shaping heels out of strips.
The P.95 is a roll pigmenting machine especially studied to coat some products on the sole.
Manual skiving machine for wood, alluminium and plastic heels.
Automatic machine to fix with rivet the shank to the heel. The automatic system allows machine to work with continuous cycle with a production of 1500 pairs/hour.